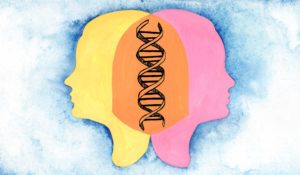 Instructor Anya Groner's essay "Twinless in Twinsburg" examines her experience of being an identical twin through the lens of an annual Twins Day festival she attended without her sister.
Long before I knew the shape of a double helix or what DNA was, I too pondered the mechanics of individuality. Where do the boundaries of personality lie? Are dispositions coded inside us or is there something more mystical at work? I was born into those questions. Even when we haven't seen each other for months, I'll sit beside my twin sister at dinner and notice our shoulders slouched and elbows bent at precisely the same angles. When an expression flickers across her face, I recognize its meaning before she speaks. I'm not telepathic. These gestures — motions without thought — are imbedded in me, too, as if our muscles share memory. The effect is unsettling. What does it mean if your essence is a function of coding? If your selfhood is a coincidence of genes and timing?
Read the entire piece at Longreads.